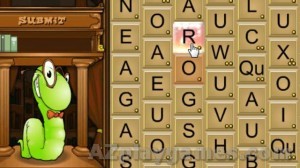 Description:
Bookworm
Bookworm is a classic and exciting crossword fun game. This is one of the extremely rewarding puzzle games and has been chosen by a lot of people from all over the place. You must create words by connecting adjacent letters. All letters bring you specific values, creating many words to earn points for your achievement.
Each letter gives you a certain number of points, the more letters you form, the higher your score will be. However, some individual tiles will appear that can make the problem more complicated. Green bricks provide some bonus points, so try and use them as often as possible. Red bricks will spread to the surrounding blocks. Red bricks can also burn your green bricks. Therefore, you need to remove these bricks before they destroy all your bricks. When you let the burning bricks reach the bottom of the screen, you will end the game. The higher the level, the more red bricks appear, making the game more challenging, try to destroy all these bricks.
When you reach a certain number of points, you will be promoted to a new level. These levels will appear longer, harder word with the appearance of many blue and red bricks. Those of you will surely overcome.
As you complete each level, there is an evaluation of your results, the time and points achieved, and the results of the highest person. Through it you will adjust your game so you can pass all levels, topping the table and conquering this game.
Try to reach the highest score to become the best player in this game, beating every opponent from different countries around the world.
Bookworm game requires you to think fast and accurately, you also need a rich English vocabulary, so it will help people practice quick thinking.
Through this game, children can practice to improve their vocabulary, improve their ability to think and learn and play at the same time is a great thing.
The game is entirely free, can be played anywhere, anytime, so you are very proactive in terms of time and money-saving.
Quickly create lots of words before they are burned down by the hateful red bricks. The game with straightforward gameplay but will bring players many exciting feelings. Learning to play, play, and learn, combining two in one, is always the right choice for many people. Children can be very disgusted with learning, so let them play this game; maybe they have fun while progressing a lot on English vocabulary. I hope you will have fun gaming moments on our website. Besides, you can participate in other games that are also extremely interesting.
How to play Bookworm game
Use the left mouse control or touching the screen to put words together.
Tags:
1 player
,
fun
,
logic
,
word