Max Fury Death Racer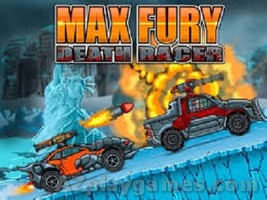 Max Fury Death Race is a game inspired by the movie "Max Fury" that many gamers love. This is an action and endless racing game, where you race and shoot on extremely dangerous tracks. No speed limit and no mercy happened, just to blow them away with lethal weapons.
Your mission in the game is to shoot and destroy all enemy racing rivals while trying to survive their attacks and win. Drive on 2D platform and win the violent races you will engage with your car. Shoot your rivals and destroy their vehicle. Gather the money needed to buy upgrades and buy a new car, which will be much stronger, you can buy 8 different cars.
Driving your vehicle, armored and armed, you should try to complete each race in the first place but especially try to keep your vehicle in one piece. The game offers 4 series of 5 races with an iconic character to beat at the end of each series. Crashing modified armored cars and facing cruel bosses in every race. Fire-fighting rockets use gatling machine guns to destroy racing rivals and flip them in the ashes in the air. Your racing rivals have auto shields and armored vehicles, custom military trucks. Defeat missiles and gun bosses in this awesome death match. You choose lethal weapons and vehicles and race for their freedom in this game. At extremely high speeds, your challenge is to shoot and destroy all of your opponent's racing rivals.
As a person directly involved in the game, you will directly participate in battles for fierce position with other players. The game has a lot of weapons. Complete each race as quickly as possible. Discover the strategy needed to win.
How to play
Use Flip to get nitro.
Use Z key to shoot guns.
Use arrow keys to drive.
Use the X KEY to select special weapons.