3 Count Bout (Arcade)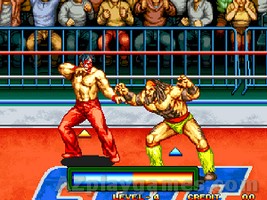 3 Count Bout (Arcade) is a one-on-one fighting game. Choose your favorite wrestler and survive in the final battle, this is the pride as well as the place to show your strength.
There are ten rounds in the 3 Count Bout game (Arcade), and each of them has friends fighting other wrestlers much harder than the previous rounds. You defeat each person by biting, kicking and performing other moves to the point where the opponent's damage meter is no longer available. In the end, he must be pinned to the notorious number three, so that would be the winner.
3 Count Bout (Arcade) has 2-player mode or CPU battle. If you're a wrestling game enthusiast, try playing 3 Count Bout (Arcade).
How to play
Arrow keys to move