Return Man Wideout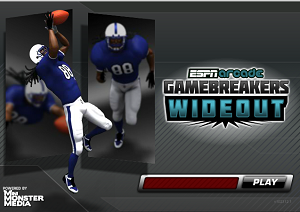 Get through the blockers to catch the touchdown pass! To play Return Man Wideout now!
Run the route correctly to get to the yellow catch zone just in time. Get there too early and the defenders will block it.
Get there too late and the pass will be incomplete. If you don't make the catch, you will lose possession.
Unlock Special Moves and earn additional catches that enable you to get passes that are out of reach.
How to play
I = Run forward
J = Run left
L = Run right
K = Run back
Space bar = Catch