4th and Goal 2020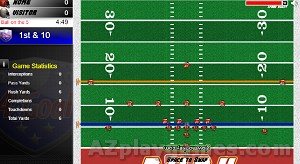 4th and Goal 2020 is an American football management game. Get ready for Big Game! Version 4 and this Goal offer new play styles such as Red Zone passes. Direct kicks, stats, and Hall of Fame mode will keep you steady. Don't forget There are no goals or field goals … Treat every player as if it's the 4th goal!
How to play
Arrows to move. A, S, D to pass.
Move – Arrow keys
Pass / Play – A / S / D
Increase – W
Shadow shooting – Spacebar
Menu navigation – Mouse
Space bar to capture ball and mess.