Ado Cars Drifter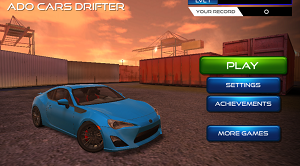 Ado Cars Drifter is a completely new racing game. Choose your car and collect points by going as far as possible. Unlock new cars and maps and try to complete all achievements. Try to get the highest score while drifting!
In Ado Cars Drifter game, you can hone your driving skills in some amazing 3D sports cars. You can hop into your sports car and explore a vast 3D world with lots of roads, buildings, and skyscrapers.
Drive wherever you want and discover your heart's content. There are many interesting scan angles, so make sure to show you epic drift skills here. The controls are very simple and the car handles perfectly, it will feel like you are driving a real sports car.
How to play
Arrows to move
WASD to drift