ATV Quad Moto Racing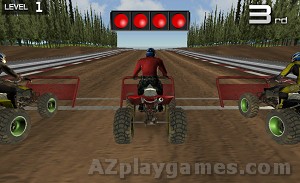 ATV Quad Moto Racing is a fantastic off-road racing game, especially when you ride a four-wheel motorcycle. In it, you will compete with other players in different races.
You need to master the controls and handle difficult elements and muddy terrain to be able to compete in each race. Dodge all cars running on the track while still being the fastest driver. Be careful not to make mistakes, or you may lose time.
With beautiful graphics and simple controls, the ATV Quad Moto Racing game and the beautiful 4-wheel drive make for great racing. Five color options, you must make an effort to end the game.
How to play
WASD key or arrow to drive
Space bar to use handbrake