Basketball Legends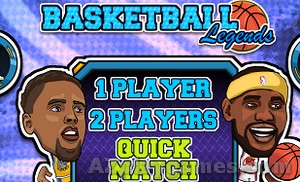 Basketball Legends
Basketball Legends game is for basketball sports lovers. You will choose a basketball team of your own with funny characters. Choose the character that you will compete, choose the opponent, choose the game mode and participate in the battle.
Your team may consist of one or more people, your task is still to burn as many balls into the opponent's basket to pass the opponent's score and win.
Play fast matches, tournaments or even play with your friends in two-player mode, unlock all achievements and enroll your team on the leaderboard between teams.
You have to move around the field to regain your opponent's ball game and throw it exactly into the basket. Your opponent has the same abilities as yourself. Therefore, you need to perform fast and accurate movements. Each player takes a throw in the mix, whoever throws the ball will have an advantage, but if you miss then the ball will be awarded to the opponent. The other person still can snatch the ball easily by grabbing or punching, leaving the other person dizzy and performing beautiful flashes of your moves.
After scoring the ball into the basket you will get an extra point and your opponent will burst into tears of grief. Differences in scores will help you win the game and continue to play against other teams. Conquer all teams as well as players to become the best player in this game.
Your achievements will be saved in the rankings if you achieve very high scores.
You can play against the machine or with your friends, two players at the same time, facing each other. The game allows up to 4 players at once.
How to play Basketball Legends game
Basketball Legends uses the arrow keys to move
X to Action.
Z to Supershot against 1 player.
For 2 player use W, A, D, S to move; L to Action; K to Supershot.