Basketball Slam Dunk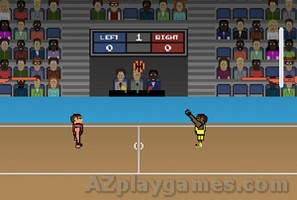 Basketball Slam Dunk is a 2D physics-style basketball game inspired by Dunkers. Basketball Slam Dunk has retro pixel graphics, you can play against the computer or against your friends. Control the basketball player's arm and jump from side to side to dunk the ball and score a goal. The person who scores 3 points first will win the game.
Basketball Slam Dunk game where you will play real basketball matches with challenging opponent teams like watching live nba matches. Dunk the ball like a pro and win the match with the biggest score ever.
How to play
Throwball: player 1 use W and player 2 use up arrow
Move left: player 1 use A and player 2 use left arrow
Move right: player 1 use D and player 2 use the right arrow