Beach Pogo All Stars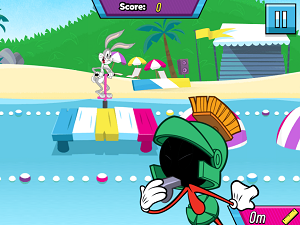 Beach Pogo All Stars is a fun game, serious competitions for many different sports broke out on the beach. Bugs Bunny, Daffy Duck or Tom & Jerry are the characters that will appear in this game. Get on the pogo stick, join the crazy beach race in which you have to jump over obstacles, and win.
Bounce with the Pogo bar on the water, adjust the power, angle, and time so you don't fall into the water. Get directions to avoid losing valuable time and don't miss the inflatable balls. Beach Pogo All Stars game with vivid, beautiful graphics makes players very excited.
How to play
Use mouse