Belly Smash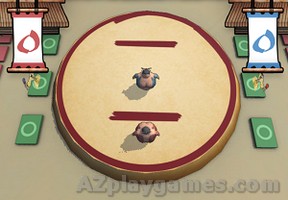 Belly Smash is a fun 2-person sumo wrestling game. Simply push the opponent out of the round to win.
In the beginning, both competitors have approximately the same weight and size, and then it all depends on the strategy you choose. You can win with smaller sizes. You can quickly increase the volume by collecting sushi, rolls, sashimi, and other edible elements that fall on the field.
Win 3 Belly Smash game rounds to become Yokozuna, the greatest master of sumo art. Belly Smash has 3 modes of play, try and play this game will make you not be disappointed.
How to play
Player 1
Up arrow: move towards the opponent
Down arrow: move away from the opponent
Left and right arrows: rotate around the opponent
Double-tap any button to rush in that direction
Player 2
W: move away from the opponent
S: move towards the opponent
A, D: Go back to the opponent
Double-tap any button to rush in that direction