Blaze Kick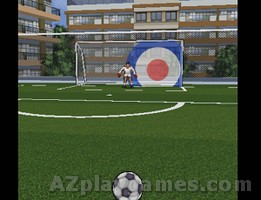 Blaze Kick is a soccer game in which you have the opportunity to master a spot-kick and become the best football player the world has ever seen. Hone your kicking skills in this brilliant soccer game and try to earn as many points as possible in 60 seconds.
In Blaze Kick game, you will try to score points by trying to hit the red target. It will not be easy, because there is a goalkeeper and he can catch your kick. Calculate distance and direction before kicking the ball.
Try to earn as many points as possible to reach the next level. This fun spot-kick game will entertain you for hours as it increases the difficulty with the challenges you'll need to overcome.
How to play
Drag the left mouse button up to shoot