Cars 3 Demolition Derby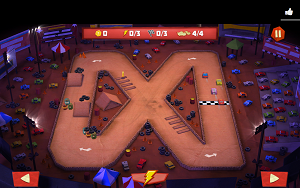 Cars 3 Demolition Derby is a great game from the interesting Disney Cars 3 movie. You can control Lightning McQueen or Cruz Ramirez and race for supremacy in the arena. Step into the demolition derby and try to control the car you choose through a series of exciting tracks.
Join Thunder Hollow Speedway as Lightning McQueen or Cruz Ramirez as you race to the finish line. Collect coins to upgrade maximum speed, acceleration, nitro, and more. Also, unlock new car themes. You will be able to complete all races in first place with three stars in Cars 3 Demolition Derby game.
How to play
Left and right arrows to steer
Up arrow for nitro use