Cricket Hero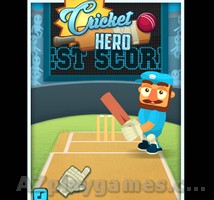 Cricket Hero is an extremely fun sports game. In this fast-paced Cricket Hero game, you need to hit the ball as far as possible, as many runs as possible.
Your task is to hit exactly the ball thrown into the circle with a stick in hand to score. Also, avoid hitting bombs or smashing coins to accumulate.
Bowler has a few tricks, he will throw eggs and throw bombs at you. Do not press these or it will cover the screen and the game will end. Test your reaction time and love the roar of the crowd when you play Cricket Hero game.
How to play
Use the mouse to hit the ball