Dirt Rally Driver HD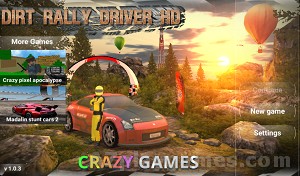 Dirt Rally Driver HD is a new open-world 3D arcade games in which you will conquer roads in three different countries. Get ready to drive 19 cars and win over 100 races. You must show all your skills to win and go all the way from novice to professional racer.
In each race, you will have to avoid countless obstacles and also show your drift skills. When you drive through the open world, be careful, it can be destroyed so you can't hit buildings and objects. Can you prove yourself as a top racer in Dirt Rally Driver HD?
How to play
WASD key or arrow to drive
C to change camera
Space bar to use handbrake
M to open the map