Flappy Foot Chinko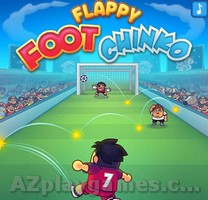 Flappy Foot Chinko is another soccer game of Foot Chinko with a little Flappy Bird element. Score the perfect goal without any obstacles. In this game, you will be able to participate in football matches with extremely new rules. Once the player has thrown the ball, it is important that you keep it in the air, based on the rebounds, and approach other players who are ready to dribble, approach the goal, and score before hitting an obstacle. Deadly and other crazy traps.
How to play
Your task is to score goals in matches to win.
Use the Mouse to perform operations in the game.