Fleeing The Complex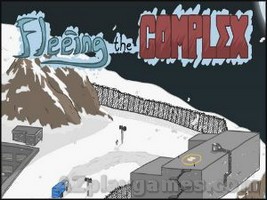 Fleeing The Complex
Fleeing The Complex is an extremely interesting flash game. You will choose actions for your character to perform and overcome it to escape the captivity of enemies in the vast prison and to where your accomplices rescue you.
This is a prison for the worst and smartest criminals from around the world. To get out of your cell to safety you need to get through all the protected prison areas.
In each room you have to plan your own escape. Those rooms have lots of dangerous traps. You need to choose the right path, tools and move while you try to break in or escape. In the process of finding your way out, you can receive support from friends.
You choose the tools and paths then track whether the action is right or wrong. If it is wrong, you are allowed to choose again.
A lot of interesting things are waiting for you in this game, become an excellent prisoner and no one can stand in your way.
Your character is a stick-shaped character who can always react flexibly, move fast and perform any action that is up to you.
Fleeing The Complex game has 5 different endings and about 60 failures for you, along with a map system that helps you get back to the scenes you've passed.
When you win, there will be statistics on the number of times you have chosen the wrong number and the number of correct choices. Try to make the best decisions for you.
You need to make good judgment to get the highest score. This game has no time limit. But if you make a mistake, you have to play it again.
If you choose the right one, you will go to the next room and continue to choose the action until the game is completed, ie when you escape from the enemy's house. If you choose the wrong then you continue to choose again.
How to play Fleeing The Complex game
Use the mouse to select actions.