Rollercoaster Rush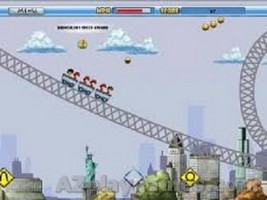 Rollercoaster Rush is the game that brings the ultimate roller coaster experience for players in the amusement park.
The park is always the place where young people come to play and entertain and the roller coaster game is always a game to attract many young people who love adventure. Feel thrilling and adventurous with Rollercoaster Game and earn lots of money to upgrade. Your mission in the Rollercoaster Rush game is to be the best roller coaster driver ever. To keep the trip safe for passengers while providing the most enjoyable ride possible. Operating a roller coaster is not easy. Go fast, but don't hurt anyone! Journey your way through 15 levels of spine excitement.
Conquer big peaks, steep valleys, loops, jumps and more! Race for the best time without losing all your stroller and driver. Speed ​​boosts your excitement index, multiplying your score, but even small jolts are enough to send a flying car. Your first job will be in the roller coaster of the United States. After that, you will continue in Germany and Australia.
In the game there are several dozen types of sieve lines for roller coaster designed subtly, they are distributed in deserts, deep forests, snowy mountains, through the city of buildings. But their safety measures are not good, just a little neglect you will be pushed out of the seat, even flip the car.
Features of the game Rollercoaster Rush
– Many viewing angles, experience the feeling of driving the roller coaster-like that!
– 15 levels with different landscapes, taking you around the World!
– 10 unique Super Glider, waiting for you to unlock and collect them
How to play
Use the right arrow to Accelerate
Use the left arrow to Brake
Create the most enjoyable experience for your driver – but don't go too far or the roller coaster will have trouble.