Football Legends 2019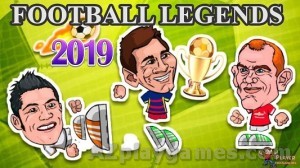 Football Legends 2019
Football Legends 2019 is an exciting soccer game. You are allowed to choose the game mode, 1 player or 2 player and choose opponents.
The latest version of the game allows you to play with legendary teams and different teams from around the world. Your opponent could be anyone, maybe a computer bot, that will attack you immediately and score a goal against your net.
You need to be agile and timely to score the ball through the net or shoot, not allowing opponents to score. When someone scores the first goal After you or your opponent has scored a certain number of purposes, that person will easily win and try to win as many victories to become a person with achievements. Highest in that tournament.
The Football Legends 2019 game is entirely free, including many famous players from around the world, which will give players exciting matches.
Show off your soccer skill right on your mobile device and game for football fans, making it possible for them to compete in their smart devices when they can't participate in them directly into the playing field.
The game has a straightforward interface with beautiful 3D images, and the gameplay is straightforward. Seize your opportunity to score and become the best player, topping the charts.
You can share your achievements as well as share games with other players through social networks or invite you to play directly with them.
How to play Football Legends 2019 game
– For the first player
Arrows keys: Move
Z: Super shot
X: Shoot
– For the second player
W, A, S, D: Move
K: Super shot
L: Shoot