Free Ride Jumps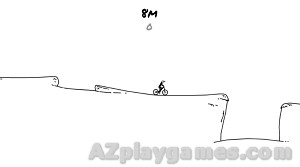 Free Rider Jumps is a 2D hand-drawn bike racing game. Free Rider Jumps is a modern version of the classic Line Rider game. Again, you will drive around by bike and show your driving skills on difficult terrain. The bike will always move forward, so you will try to keep it on the road.
While jumping, you can try to score additional points to make the jump. You can perform tricks along the way, as long as you do not fall. It takes time to master the controls, but once you do, you can become the champion of Free Ride Jumps.
How to play
Press the left and right arrow keys or A and D to control the bike and keep your balance.