Ghost Rider Stunts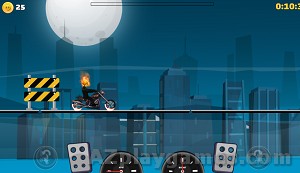 Ghost Rider Stunts is a high-speed motorbike racing game. This is an opportunity to roleplay as a ghost scariest most rife with danger.
Perform beautiful stunts, cross the track safely without falling into a deep abyss. Help the Ghost rider collect all fireballs and earn points. Earn extra points by performing stunts with him, drift to the finish line, and move on to the next level.
There are lots of deadly obstacles in the Ghost Rider Stunts game but our superhero knows what he's doing. Complete every level successfully and win the game.
How to play
Arrow keys to move