Golfy Golf 2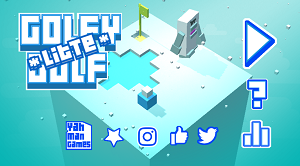 Golfy Golf 2 is back with a fun and unique playing golf. Golfy Golf 2 game is an innovative golf game with visually appealing cube graphics. 3 Game modes and 2 player mode features. Defeat menacing enemies, fierce competition, and beautiful bases.
You can play on many different courses, each with a number of interesting and cool scenes and obstacles. Aim your shots carefully and try to put the ball in as few strokes as possible.
In each Golfy Golf 2 game course, you can complete various quests and side quests, as well as participate in competitions and tournaments. Grab a putter today and try your crazy golf skills.
How to play
Drag the left mouse button back to adjust the power, release to shoot
Move the left mouse button when dragging to change the rotation position