Love Tester 3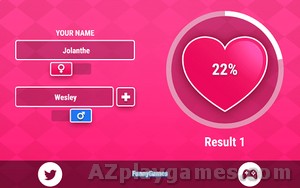 Love Tester 3 is one of the new online girl games, with a vivid and attractive way of fortune-telling with its unique character that will bring players moments of relaxation that are fun and exciting. Demonstrates a much more vivid and diverse than Love Tester in terms of both images and gameplay, and it is this factor that creates excitement and features a completely new style for the game.
Love Tester is a game that allows you to determine how well you and your partner will fit together. Just enter your first name and your lover's name. Up to three people can be added to the analysis. See how well you match and share results.
In the game, you will be able to participate in the fortune-telling screen in two different forms, namely fortune-telling by name (Name Match) and fortune-telling by the zodiac (Zodiac Match). Each type of fortune-telling will yield different results and the player will always be amazed at the unexpected results.
The Love Tester 3 game is here to let you know if you and your significant other intend to be together! The feeling of butterflies in the belly is the best indicator of being shot by the Cupid arrow, but who says you can check it. Do you have a crush on someone but are too shy to open up to them? Do you spend the whole night thinking about what it would be like if you were together? Do you feel your story can make even the most beautiful romance film blurred by comparison? Why waste your time with such questions when you can get answers with a few clicks? Love Tester 3 is here to provide you with answers to all these questions. Let's experience the humor in the best girlfriend game today in each fortune-telling screen is shown in a new and exciting way.
Features of the game Love Tester 3
Full-screen mode available
Analyze 3 names in 1 round
Share results on Twitter
How to play
Use the left mouse button to select a name field and start calculating.
Use your keyboard to write the name.