Love Tester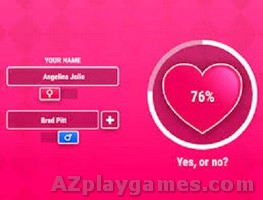 Love Tester is an extremely entertaining game for couples in love. Love Tester belongs to the category of funny girl games designed with vivid images and unique interesting gameplay that promises to bring you relaxing moments of joy and excitement. Not picky and complicated, but the game still shows its vividness and diversity before a series of mini-games or on the same topic when giving players a variety of choices about fortune-telling. and race out funny results.
Love Tester is an application that helps you test your love for free, thanks to Love Tester you can realize your true love. Test your love with your partner or family members or simply your favorite artists. With this game, you can know everything you want.
Come to the game, you will be involved in a very simple test that is to enter your name and the person's name to know how much and how much of that ruler's heart is to test. Test your compatibility with your friend through each of the fortune-telling choices about your name, year of birth and zodiac. With fairly smart programming, it will always produce random and surprising results, and this will always give players a sense of joy and excitement. Join the fun and exciting new predictions in this cool girlfriend game, and feel the fun in every surprising outcome.
How to play
Love Tester is a very simple application where you only need to write your name and the name of the person you want to test, the application will return you the result as a percentage showing that you and your partner love that much. Come on.
Use the mouse to play.