Monster Truck Madness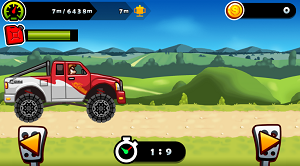 Monster Truck Madness belongs to the category of driving games that promises to bring you extremely difficult challenges. It is a longing for speed and coins.
Coming to the Monster Truck Madness game, you will receive a task that is to drive a crazy truck to overcome difficult and dangerous terrain safely. Many trucks will be unlocked when the player completes some races. With addictive driving gameplay, good graphics, and great sound effects, Monster Truck Madness is the best game to play.
You show your ability to drive virtuosity with the truck to overcome difficult terrain without any accident.
How to play
Arrows to move
Spacebar to jump