Monster Truck Soccer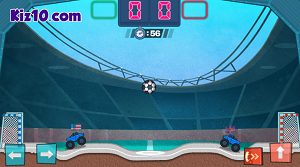 Monster Truck Soccer is an exciting arcade game that combines two monster truck racing and soccer genres. Coming to Monster Truck Soccer game, players will have the opportunity to participate in the top football games, fiercely on the pitch, except that instead of the players playing, here will be 2 trucks confronted. together.
After 60 seconds, the team which takes the ball more into the opponent's net will win. There are many different teams to choose from such as England, France, Germany, Brazil, Spain …
As you play and win Monster Truck Soccer matches, you can collect a variety of exciting titles. You can also unlock some awesome outfits for your monster truck.
How to play
Left and right arrows to drive
Up arrow to jump
Space bar to do a frontflip