MTB Pro Racer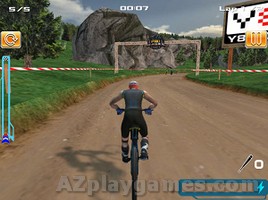 MTB Pro Racer game is an exotic mountain bike racing adventure through muddy and rocky terrain with other cyclists. Your mission is to finish first to win the races.
Jump over the ramps and do tricks to get some booster. Collect some power-ups on your way. Attack other players as they come close so you can pass them, and more.
MTB Pro Racer is like a fight, so it is better for the player to wear a helmet carefully. MTB Pro Racer game is an interesting racing game and not to be missed.
How to play
Arrow keys: Control
X: Enhanced
Spacebar: Attack
Z: stunt
C: Camera
R: Reset