Net Heads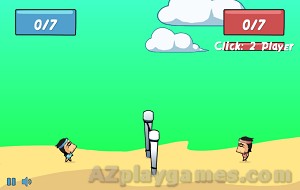 Net Heads is a beach volleyball game, played against AI or with friends. Prove to the world that you are the king of this game.
Funny athletes with big heads went to the playground. Turn up for a formidable player, everyone wants to win, but the odds are the same. The task is not to let the ball fall on the field. The Net Heads game match will start on the left, be careful, and don't miss your chance of winning. Jumping and leading the ball to the opponent's court, he will do the same.
You can control both at the same time, but it's not easy, it's better to invite a friend and fight with each other.
How to play
Player 1: WASD
Player 2: Arrow keys