Nick Football Stars 2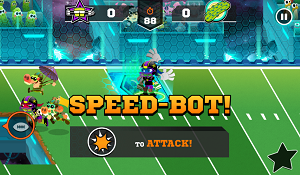 Nick Football Stars 2 is the next exciting and thrilling game. To participate in the game, you will need to choose your own team. When the ball goes into play, you will have to catch it and cross the opponent's defense to give a certain line on the opponent's half, which can score a goal.
Are you ready to run and score as many touches as possible with your favorite characters? Dodge dozens of obstacles, collect powerups, and avoid your opponents!
How to play
Use the arrow keys to move
Press Space to attack