Ninja Volleyball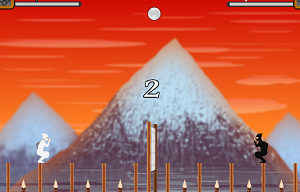 Ninja Volleyball is a fun 2-player sports game that combines Japanese ninja skills with playing volleyball.
Invite a friend and play with him in a deadly ball. Today you – some ninja irreconcilable and survived are the winners. Slugger the ball, don't let him fly over and remember that every mistake will cause a sharp rise from the lance pit. Open earned points to purchase additional features of your character.
How to play
Player 1: WAD to move/jump, S to use power, Q to change power.
Player 2: Arrow keys to move/jump, down arrow keys to use the source, Shift to change sources.