Royal Thumble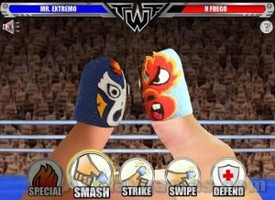 Royal Thumble is a fun wrestling game that you have to deal with a fight between your own fingers. This is another thumb fighting game in the game of hammer, paper, scissors. In this game, you fight against your opponent's thumb because this is a battle of fingers. It also includes the Mexican Lucha Libre mask feature.
Your mission in the Royal Thumble game is to choose one of the ten fighting masks for your thumb and engage in a thumb fight against the opponent. Some hooded thumbs are fighting for the coveted Royal Thumble title. Wear a mask to startle your enemies and choose a winning combination to smash the enemy's thumb. Take the mask for your thumb and move into the ring. Choose an attack, now see the choice of the opponent thumb. Choose attack from four modes of a swipe, smash, attack, and defense. A special move will be available and use it when your opponent will be under pressure.
You can defeat all your enemies. Choose one of the ten masks you want for your wrestler. The next step is to go inside with a random wrestler. Each wrestler has a different skill. You must choose between four attack modes. You have a secret weapon that you can use when activated.
Special weapons available when the opponent is in low health. It is devastating but comes with a risk, if the opponent is against special moves, they will unload their special moves instead. Use the defense mode to minimize damage when your opponent attacks you, especially with a special move.
How to play
Use the mouse to play.
Defeat your opponent. When the attack/defense icons are lit, select attack type or select defense. Once you have chosen, your opponent's choice will also be revealed, and then you can know who chose the stronger move.