Running Back DX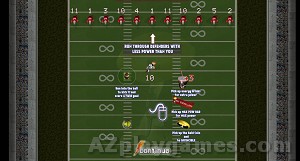 Running Back DX is a very popular sports game in the US, this sport requires a lot of physical strength, and especially very vulnerable. You can now participate directly in the Running Back DX rugby match online.
In the Running Back DX game, players will play the player with the task of hugging the ball, overcoming the obstacles of your team player, trying to run the farthest distance possible, and putting the ball into the goal.
Running around or passing defenders with less strength, look at the stamina. Collect water jars to increase power, collect gold rings to activate invincible mode.
How to play
Use mouse