Self Golf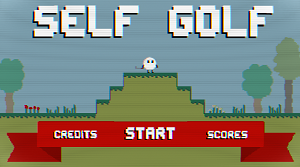 With the game Self Golf, you control the ball to reach the destination by shooting it. To reach the destination you have to calculate which path is most suitable and control the speed of the ball so that it is reasonable.
How to play
Hold the left mouse button to move towards the cursor.
Press the right mouse button to "jump" towards the cursor.
Hold down the right mouse button for a more powerful shot/jump.
Press "P" for the pause menu.
Press "F" for fullscreen.
Get yourself in the hole in as few shots as possible.