Skate Our Souls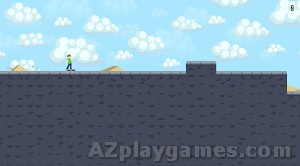 Skate Our Souls is an attractive skateboarding game with vivid graphics, beautiful in the desert. Skate Our Souls is a place where you can do all sorts of tricks on skis like skating, grinding, and anything other than the basics.
The acrobatic performances still get the love from the young people because of the adventurous and conquering feeling after each winning game, coming to the Skate Our Souls game we will also experience. These fun-filled gaming sensations.
Your task in Skate Our Souls game is not too difficult but also challenging, you need to test and control the force to be able to accurately jump and overcome obstacles.
How to play
To jump, hold the single button, then release. The longer you hold it, the higher the jump
To make a tip, enter the string while in the air
For sharpening, land on rails while holding the single button
To perform the ground trick, enter the sequence, then hold down the only button until you land on the tracks
To perform manual press and hold the only button just before you land