Slalom Ski Simulator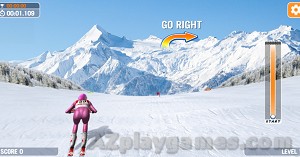 Slalom Ski Simulator is an HTML5 Web-based sports game. Coming to the game you will see in front of you is the starting line and your skier. As a signal, your character gradually picks up the incline that will plunge along the ridge. On your way will be checked.
The game will have all 12 different levels to challenge players, in which the difficulty will be increased gradually. Besides, with beautiful 3D graphics quality is a great plus point for this game. Join the Slalom Ski Simulator right now to enjoy yourself moments of fun and comfort right away.
How to play
Use left/right keys to control this game