Snowboard Freeride: Yetisports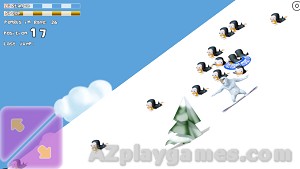 Join the game Snowboard Freeride: Yetisports to find interesting things for themselves. Coming to the game, the player must try to get points by making jumps (and landing them in a unique way so as not to lose speed) the white is still fast to win the race with Birds Penguin.
Skillfully help the character avoid obstacles by controlling the arrows in the lower-left corner.
If you see round green objects, don't miss them – these are springboards where you can jump high and do a few tricks.
Management – in the lower right corner.
How to play
Use the up/down arrows to slide left or right
Use left/ right arrows: Roll in the air/Perform stunts