Soccer Physics 2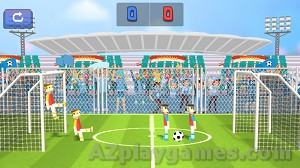 Soccer Physics 2 is an exciting soccer game with challenging physics-based gameplay. Try physical conquest to kick the ball and score a goal into the opponent's net.
In Soccer Physics 2 game, you will enjoy a crazy and passionate soccer match, in which the usual rules of the game that you think you already know are not applied in this game. All you can think about is trying to conquer physics to kick the ball and lead the ball to the opponent's goal.
Win the world cup in 1-player mode and beat your friends in two-player mode. As you progress and win the games, you can buy exciting new football models to play with.
How to play
Control 1 player
Press the up arrow to jump
Press the left arrow to kick
Control 2 players
To jump, press W or the up arrow
To kick, press D or the left arrow