Stick Figure Badminton 2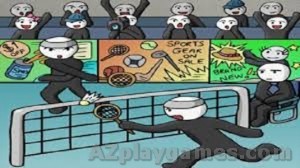 Stick Figure Badminton 2
Join the Badminton game online Stick Figure Badminton 2 game. The game helps players practice skills so you can participate in online tournaments.
The rules of this game are straightforward. You will score if the player hits the opponent's net and touches the ground. Speed ​​and agility is the key to playing badminton, and you will need fast reactions and talented fingers to win each competition.
You can play in single or two-player mode. For single-player mode, you will play against the machine, and for a two-player style, you will play directly with your friend with the real keyboard.
First of all, you need to choose one of the given players to play. After selecting the player, you will participate in a duel.
For each match, you need to have your tactics. If you score 7 points in advance, you will win. The scoreboard will be displayed in the middle of the screen, helping you keep track of the match results.
When you see the orb in flight, follow it, jump up and hit your opponent. It would help if you typed very quickly and accurately to score.
Badminton is a perfect sport, requires players to concentrate on their skills. A lot of players have played this exciting game, and you will also meet many opponents who play very well, helping you improve your ability to hit the ball.
Simple stickman style graphics game helps players easily understand the tactics and how to play, assisting players to play and win.
How to play Stick Figure Badminton 2 game
For beginners, it will take some time to get used to the controls so you can master it. Using a flexible combination of mobility and hitting will help you achieve the best results.
For the 1 player: Use A and D to move. W to jump. S to Swing.
For the 2 player: Left and right arrows to move. Up arrow to jump. Down arrow to Swing.