Stick Figure Badminton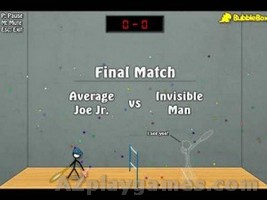 Stick Figure Badminton
If you like sports games, you will know the Stick Figure Badminton game. In this game, you can play alone or play with others.
To score a goal in this game, you have to hit the badminton on the opponent's court which the opponent cannot retaliate. Speed ​​and agility is the key to playing Stick Figure Badminton game. Your fingers need to be flexible to win.
Have fun and advanced mode, the fun you will use direct mouse control to move the racket, you can move around to a very high position to hit the ball; in advanced mode, you will control the stickman player, affecting this player through the character keys on the keyboard to hit the ball. You can play fun mode to practice accustomed to hitting the ball before playing in advanced mode.
You can play against the machine and participate in multiplayer matches with your friends to become the winner by completing all matches and defeating all opponents.
You can control the character rushing across the field, jump through the air, and perform great shots. Each person will be served, people who serve before he will have an advantage. When someone scores, he will gain the right to serve so you must try to score.
The transcript will be placed in the center of the screen. Whoever wins the previous 7 points will be the winner. Pay attention to the score to adjust your tactics accordingly.
Stick Figure Badminton game is very simple and easy to understand. If you are new to playing, you may not be able to control the bridge but only a short time you can play.
You will try to hit while jumping into the air, this gives the shot more power and makes it harder for your opponent to support the bridge. Of course, then your ability to score will be higher.
How to play Stick Figure Badminton game
Stick Figure Badminton has a very simple rule that you hit a ball through the net to the opponent and it hits the ground, you will score. In the fun mode, you just need to use the mouse to move the racket around to the appropriate position and left click to hit the ball game.
In advanced mode, you use the left or right arrow keys to control the character up or down, up arrow to jump, down arrow to hit the bridge