Stunt Dirt Bike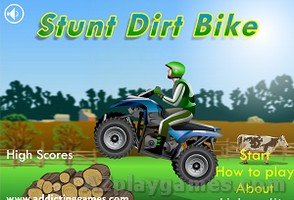 Stunt Dirt Bike will help you become a professional motorcycle rider when controlling motorcycles through each complex terrain. Like other racing games, jumping and rotating are the main themes of this game.
Stunt Dirt Bike consists of many levels, at each level you will need to skillfully go through complex roads to complete the route and move to a higher level with new and interesting roads.
Prepare and jump into the air and drive on impossible roads. Perform extreme stunts and land safely, complete the course within the allotted time to win the Stunt Dirt Bike game.
How to play
Up, down arrow keys: move forward and backward
Left and right arrow keys: tilt