Thrash Rally (Arcade)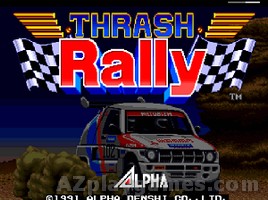 Thrash Rally (Arcade) is a top-down circuit classic racing game developed. The game features 9 vehicles that are all based on real-life cars. Thrash Rally game has 5 normal stages/tracks and a few hidden tracks that will be unlocked if the player manages to get the first place on the five normal tracks. There are also a variety of track seasons including snow and sand track variations among others.
How to play
Press the "Space" key to skip the intro screen. Press the "Enter" key on the title screen. Press the "A" key to start the game.
Arrow Keys – Move
Enter – Start
Space – Select
"S" Key – A button
"A" Key – B button
"W" Key – C button
"Q" Key – D button