Touchdown Rush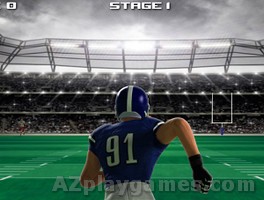 Touchdown Rush is an extremely attractive and exciting rugby game. Control the team and score as many goals as your opponent.
Touchdown Rush game is a team sport played by two teams of eleven players on a rectangular pitch. In this game, you will become a rugby player.
Your task is to drive the athlete to overcome your team players and collect medals to score the highest possible score.
You can score the winning goal to win the Touchdown Rush. Run the field and pass all defenders to reach the finish area. Collect strength and bonuses to become stronger and get more points.
How to play
Arrows to move
Space to dance