Truck Mania 2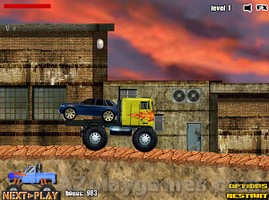 Truck Mania 2 is the sequel to the previous exciting and exciting Truck Mania game. In this game, you will have to control a large truck to bring goods to the destination safely. If the goods fall out of the truck, you must play again from the beginning. Truck Mania 2 game has all 24 different levels, each of which is a challenge for you.
The challenge for you in this game is complex terrain. You have to drive your truck through high slopes, big rocks, and narrow bridges. Besides, you must keep the balance for your goods. This game has physical elements, if you run too fast, the goods can fall off easily.
How to play
Use the up arrow key to accelerate.
Use down arrow key to brake.
Use the left and right arrow keys to turn left and turn right.