Wheelie Cross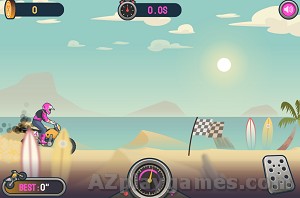 Wheelie Cross is a simple yet very addictive motorcycle racing game on the sand, where you must keep your balance and move as far as possible. Cute color graphics make the game more attractive and attractive.
Wheelie Cross game will teach you how to perform wheel skills on all types of motorcycles. Try to keep your balance and solve the obstacles along the way.
Collect coins and unlock new vehicles like shopping carts, unicorn bikes, ATVs, scooters, and more. Wheelie Cross has 12 different rides that will surprise you with physical controls and fun.
How to play
Use the mouse to play
Up arrow to accelerate