Xtreme Bike Trials 2019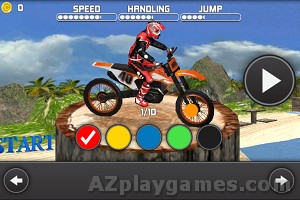 Xtreme Trials Bike 2019 is an obstacle racing game with 3D graphics. Drive along a forest path. The road, of course, has many obstacles and walls to overcome, trying to finish the race in the best time possible.
Xtreme Bike Trials 2019 game offers many features including making money, upgrading your rider avatar, and unlocking a wide selection of tracks. A special feature is the ghost driver, this spectral character will double the last play to help you see where there may be a mistake with your last run.
Become a car racing master with daring stunts. Play Xtreme Trials Bike 2019 and do it.
How to play
Use arrows to move
Space bar to jump