Zomball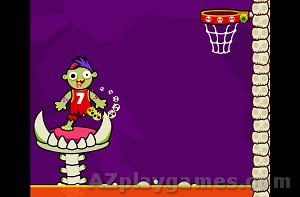 Zomball is a pretty horror arcade game, in which you play as a teen zombie with the dream of becoming Lebron James. Unlike normal basketball games, you will have to use your body parts to throw in the basket.
If the part falls through the belt, it will be returned to your body. If not, you will use another body part until you are finished. The further away the Zomball game gets, the harder it becomes. Control strength and angle to try and execute shots. Collect cash to upgrade your equipment.
How to play
Drag the left mouse button to throw.