Atlantis Quest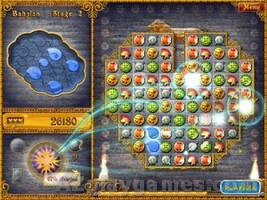 Atlantis Quest is a very interesting adventure and discovery game that is loved by many people. In the game, you play the role of an archaeologist exploring each country.
In this game, you will take an exciting adventure around ancient Mediterranean land, start the journey around Ancient Greece, Babylon, Carthage, Egypt and Rome in search of one of the greatest mystery of all time – the lost city of Atlantis. Every town has old secrets about the antiques you will have to find. And as you do this, you'll become increasingly close to the mystery of all time – Atlantis has disappeared in the deep waters. Your task in the Atlantis Quest game is to collect valuable pieces of antiques – such as Nebuchadnezzar's shield – when assembled, these artifacts will reveal clues to your next location and help you. Locate the mysterious sinking kingdom one step closer to find the mysterious city of Atlantis. In this classic-style game with a brilliant new twist, you'll need to discover pieces of antiques that will help you find your way to your destination.
Atlantis Quest game is based on a classic game mechanic with a new twist, making this seemingly addictive hook-3 game extremely addictive. To release artificial debris, you must bring them down to the bottom of the net. There are also some bonus items you can get to increase the time limit, smashing items,… When you follow a great story with an extremely addictive new gameplay, your journey will take you Overcome 76 explosive levels with exciting power-up items and lots of extras that will help you through the game. Match different bricks and take precious antique pieces to make progress. Learn interesting facts about the artifacts you collect, enrich your collection with new items and keep traveling. Atlantis Quest gives you a perfect opportunity to see so many countries on a trip.
Features of the Atlantis Quest game
– A fancy new way for games combining classic style
– Great storyline
– 76 addictive levels
– Interesting power hints and hints
– A daring mission across the ancient Mediterranean lands
– 5 ancient civilizations
– Various artifacts
– Dynamic game
How to play
Use the mouse to control the game.