Big Head Football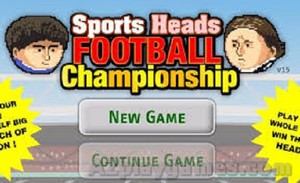 Big Head Football is one of the favorite sports games, with very funny and attractive 2D graphics, you will be immersed and the football world with famous players.
An attractive big head football tournament with the participation of world-famous players is what fans are looking forward to. Join in the game to transform yourself into the best players on the field. A separate soccer tournament for big guys to join. The main rule of the game is that the player uses his head to move and bring the ball to the opponent's goal area and then score. Your task when playing Big Head Football game is to put the ball on the opponent's golf in funny big football matches. In the match, do not forget to collect all the items to increase the attack power of the two sides in each match.
Just like the actual soccer seasons on the outside are divided into many different kicks with each separate season. In the round of the species took place quite gently just need the player to win and score impressive before the opponent is. At this playground you will receive assistance on items that are the advantages for you. Each item will have rules of color, in green will represent you gain more favorable things towards the goal causing injury to the opponent. Take full advantage of your in-game acceleration and bounce to score a lot of goals.
A pretty good and attractive sports game, isn't it, right now join and experience this interesting game, wish you happy gaming.
How to play
– Use the left mouse button to play.
– Use arrow keys to move
– Use the Space key to take a shot.
See more: Basketball legends game