Candyland Mahjong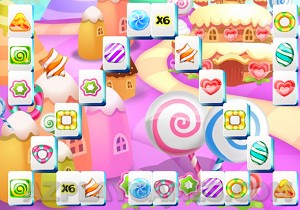 Welcome to the game Candyland Mahjong. In this game, you will be lost in a world where there are many different colored and beautiful candies. Your task is to select the same candies for bonus points.
In this game, the mahjong tiles with candies are shown brighter than the ones at the top so it is easier for the player. However, this game is not like other mahjong games. It is different in that, after you take out two same mahjong slots they will fall free, this is almost similar to Pikachu.
How to play
You use the left mouse button to select the mahjong tiles.