Clear Vision 2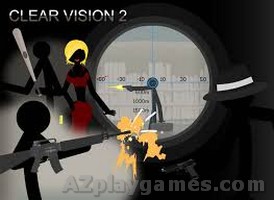 Clear Vision 2
Clear Vision 2 is the sequel to the sniper shooting games. You control a stick figure to perform the set tasks by reading requests on the computer right in your office. Perform each task and return to your home to rest or perform other functions that are your choice.
For each mission, you need to read the requirements to identify the target carefully you need to shoot. You can choose to accept, and soon you will go out of the house to the ambush location and wait for the character to appear. Show to shoot and kill him. If you do not want to perform the task, you may also choose not to take action. You must destroy the right target on time to complete the mission and get the reputation to become the best assassin in town.
Your target is a stick-shaped person, with a similar shape, so watch closely, so you don't shoot the wrong person. There are levels where you only need to kill one person, but there will be many people at that level, each with different activities. There are levels where you need to shoot two or more people when you kill one person. It is possible to make others know and run away, so you need to do it quickly. If you pull the wrong person in every mission, it will fail, but you can choose to retry that mission.
Your weapon is a gun with a viewfinder and can aim at very far positions, aiming and firing accurately at the object of your mission.
After completing each mission, there will be many articles writing about the murder, you can sit at home and read the related news about that murder, but no one knows the culprit is you.
Clear Vision 2 game is fast-paced and requires the player to remember details about the object to shoot and to have quick and accurate actions to hit them.
How to play Clear Vision 2 game
Use the mouse to move the aiming range, and after aiming the target precisely, you will click the left mouse button to shoot, and you will also use the left mouse button to perform other operations.